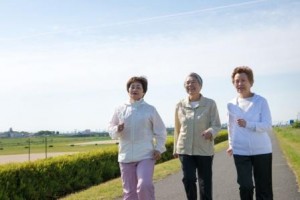 Retirement can be a great time to rekindle your passions and enjoy yourself. With Spring here, there are lots of new activities to try, here's a list to get you started.
Take up a New Sport
Now that you've got that extra bit of time, consider starting up or rekindling a physical activity you enjoy. Exercise has been shown to be beneficial for you in many ways, including keeping your body healthy, warding off dementia, and keeping you sharp and happy. With the beautiful spring time here, take advantage of it by doing something outside!
Is nothing coming to mind? Try some of these activities:
– Yoga or Tai Chi (lots of outdoor classes available at this time of year)
– Biking
– Tennis
– Swimming
– Dance Class
– Fishing
– Gardening
Go for A Hike!
With the weather getting warmer, why not taking advantage of beautiful British Columbia? There are great local trails for all fitness levels. Look for local trails at: http://www.trailsbc.ca/
Visit A Farmer's Market
With Spring here, there are so many delicious fruits and veggies in season. Take advantage of the season by visiting a farmer's market, and getting some of that fresh local produce. Find a farmer's market near you at: http://eatlocal.org/markets/
Get in Touch with your Artistic Side
Retirement is a great time to get in touch with your artistic side. Here are some artistic endeavours you can enjoy:
Painting/Drawing – Pick up some paper, canvas, paint, pencils, or whichever fun mediums you'd like to use. See what comes out!
Photography – New to Photography? There are classes which can help you get started. Cameras can be quite costly, but many people enjoy photography, and the photos are priceless!
Scrapbooking – Have a ton of photos lying around? Why not make a scrapbook! Invite friends and family to join.
Learn a musical instrument – Buy a cheap guitar, ukulele, or start playing that old piano in your home.
Learning a musical instrument can be fun, a great skill to whip out at parties, and keep your mind healthy and active.
Going to the Theatre
Vancouver has a great arts scene. Bard on the Beach is a great Theatre Production held in Vancouver's Waterfront Vanier Park during the Spring. For more information, visit http://bardonthebeach.org/
For other shows, you can visit http://www.vancouverplays.com/index.shtml and http://www.gvpta.ca/vancouver-theatre-guide to see if anything stirs an interest!
Volunteering
Consider getting a volunteer position! Always wanted to volunteer at a food bank? What about an animal shelter? With the change of season and the end of the school year, often organizations have vacancies that need filling.
You can look for volunteer opportunities here http://govolunteer.ca/ and http://www.volunteerbc.bc.ca/ for opportunities.
Book Club
You can get your friends together to enjoy a novel, or simply join a book club at your local library or community centre.
Have you tried an activity in retirement not listed above you'd like to share? You can share with us in the comments section!